Over the past few months you may have noticed some Debenu Quick PDF Library links pointing to www.debenu.com. That is because in April we launched a new website for Debenu. You can read about it here and see a screenshot of the homepage below.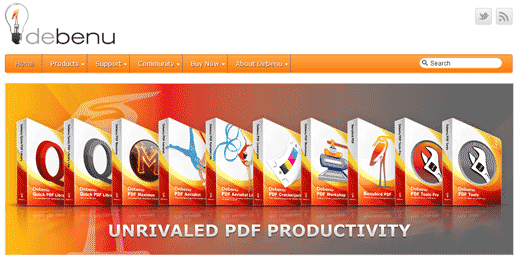 For a number of years we've run multiple websites, each with different products, but all owned by Debenu. We have now decided to take a different path and combine all of our sites into one Debenu site, as well as consolidate the different branding used for different products.
We're going to slowly move Quick PDF Library over to the Debenu website as well. As you may have seen, the transition has already started to take place in some areas. Over the next 6 months we'll continue to move the content over to the new site with the goal of completing the move of Quick PDF Library on the Debenu website by the start of 2013.
Nothing about the Quick PDF Library product itself is changing, just the website that it calls home.  At some stage we'll redirect the www.quickpdflibrary.com homepage to www.debenu.com, but not until the end of the year, once every has gotten used to the change.
Oh, and if you have any questions about the new site, please let us know by leaving a comment on this page.