Debenu Quick PDF Library Overview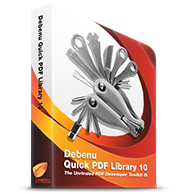 Debenu Quick PDF Library is a powerful royalty-free PDF developer SDK for Windows and Mac used by thousands of developers for working with PDFs on all levels. Including a robust API with over 900 functions for use with C, C++, C#, Delphi (4 to XE7, PHP, Visual Basic, VB.NET, ASP, PowerBASIC, Pascal, Objective-C, Python and more, Debenu Quick PDF Library truly is the ultimate toolkit for project where you need to create, edit, secure, print, render, split, merge or manipulate PDF documents.
The library is available in ActiveX, DLL, LIB, Dylib (Mac) and Delphi editions. Single or multiple developer licenses can be purchased and a source code license is also available.
An extensive feature list can be found online here.
| | |
| --- | --- |
| Create, render and print PDFs | |
| Secure, sign and protect PDFs | |
| Create, fill and edit PDF forms | |
| Split, merge, append and combine PDFs | |
| Extract text and images froms PDFs | |
| Edit PDFs initial view and document properties | |
| Add text, images and barcodes to PDFs | |
| Advanced support for JavaScript, bookmarks, vector graphics, GeoPDF | |
| Direct access functionality (load files from disk, not memory) | |
Desktop
Windows XP, Vista, 7 and 8. 32-bit and 64-bit versions supported.
Mac OS X 10.5 to 10.9.
Server
Windows Server 2003, 2008 and 2012. 32-bit and 64-bit versions supported.
Mac OS X Server 10.5 to 10.9.
The full end user license agreement for Debenu Quick PDF Library can be read online here, but to give you a rough idea of how you can and can't use Debenu Quick PDF Library, here are a few key points:
Per developer. Licenses for Debenu Quick PDF Library are sold on a per developer basis.
Royalty free. You can use Debenu Quick PDF Library in your applications without needing to pay any royalty fees for distribution.
No limits on number of applications. We sell licenses based on the number of your developers who will be using the library, not the number of applications your company intends to build using the library.
Servers. Your license also covers use of the software on any server with the small provision that access to Debenu Quick PDF Library by third parties must be via your own software.
No reselling. You are not allowed to resell Debenu Quick PDF Library or your license key, but you can embed the software in your application, or distribute it with your system.
Compiled applications only. You are not permitted to create your own PDF software libraries using Debenu Quick PDF Library.
Support
Every purchase of Debenu Quick PDF Library comes with free email technical support, in addition to free access to standard support facilities (online help, knowledge base, FAQs, code samples and the Debenu Quick PDF Library forums).
Visit the Help and Support portal for more info.