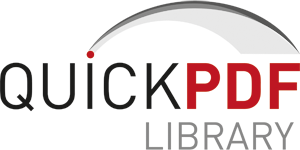 We're excited to announce that Quick PDF Library 8.11 has been released and is now available for download and purchase through our website. This new major release is jam-packed with new features and major enhancements to the usability of the library.
What's New
PDF/A-1b compliant output
Support for AES-256 encryption
TrueType font subsetting
HTML5 renderer output
New plain text extraction with natural reading order
Support for PDF417 stacked linear barcode symbology
Changed API for full Unicode string support
Evaluate The New Version
A 30 day trial version of Quick PDF Library 8.11 can be downloaded from here. This is a major new version so your old version 7.x license key will not work. The installer will generate a trial license key for you.
Upgrade Offer for Existing Customers
Existing customers are eligible for a 40% discount when purchasing the new version and can do so through our online store. Look for the product that has upgrade in its name with 7.x to 8.x.
Customers who own an active Premium Upgrade Protection subscription can contact our support team for a free upgrade.
What's Next
Embarcadero released a 64-bit compatible version of the Delphi compiler today, which is great news, and means that for version 8.12 of Quick PDF Library our goal will be to provide native support for 64-bit applications.
However, if you purchase version 8.11 now then you will receive a free upgrade to version 8.12 when it is released as per our upgrade policy.
Enjoy!
Thanks to all the customers who participated in the beta release process. We hope you enjoy this new release.