Evaluating PDF SDKs to find the one that's right for you is a difficult process. Each SDK is unique and requires a certain amount of learning just in order to be able to get setup with it, never mind the effort required to actually find out if the component will meet all of your requirements.
Quick PDF Library Demo
That's one of the reasons we've created a customizable demo application for Quick PDF Library. A demo application that shows you how to perform a wide range of different tasks — such as split pages by bookmarks, convert PDFs to images, extract text and much more — through customizable scripts.
Download the Quick PDF Library Demo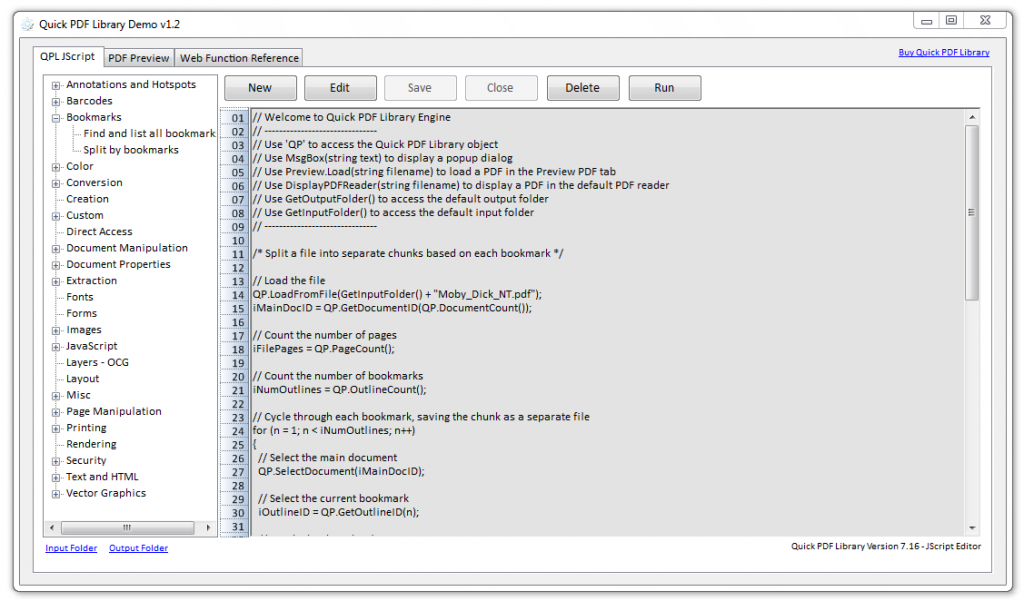 But to begin with, you don't have to customize anything, you can just select one of the scripts and click on the Run button to see the library in action. No effort required. Then later, if you want to take the library for a spin, you can either customize an existing script or create a new script of your own and save it within the application for future use.
This demo is for new and existing customers alike. The default scripts provided demonstrate how to perform some of the most common PDF related tasks and will be updated frequently in the future with more useful scripts.
Keep in mind that this is only a beta release of the demo, so if you encounter any issues, please send us a message.
Enjoy!